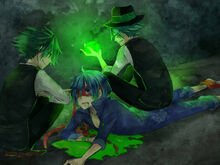 Welcome to the Happy Tree Friends Anime Version Wiki!!!
Edit
Have you watched Happy Tree Friends? Well here's another version of Happy Tree Friends, ANIME VERSION! To all anime lovers out there, check this one out!!!
About Happy Tree Friends...
Edit
If you haven't heard about this series, this is about cute little animals! Did I got your attention? Oh well, if you try and watch this series in YouTube or in any other video websites, you might be shocked. THIS IS A BRUTAL STORY!!
Note: Don't watch while eating. They might be cute, but watch out, blood might spill.
1. You can edit wherever you like, as long as you create an account.
2. Don't vandalize the wiki.
3. No bullying.
4. Have fun.
Questions:
Edit
If you have any questions, click one of these links below. Here are the list of the Administrators:
DearDiary - Creator / Admin Flippy
Don't worry, there are more admins to come.